Namaste Nepal is the biggest telecom operator in Nepal, with a user base of nearly 20 million users. The telecom offers several exciting plans to users, whether looking for affordable plans with unlimited calling or plans with both calling and data. Nepal Telecom offers several ways to check this information. I have curated a list of all the numbers required for the Nepal Telecom (NTC) balance check number and to check other details because I always forget the customer care numbers.
How to Check NTC Balance?
You can use any of the following methods to check your NTC balance:
NTC Balance Check Using USSD
NTC Balance Check Via Call
Checking NTC Balance Via SMS
Checking NTC Balance Using the NTC App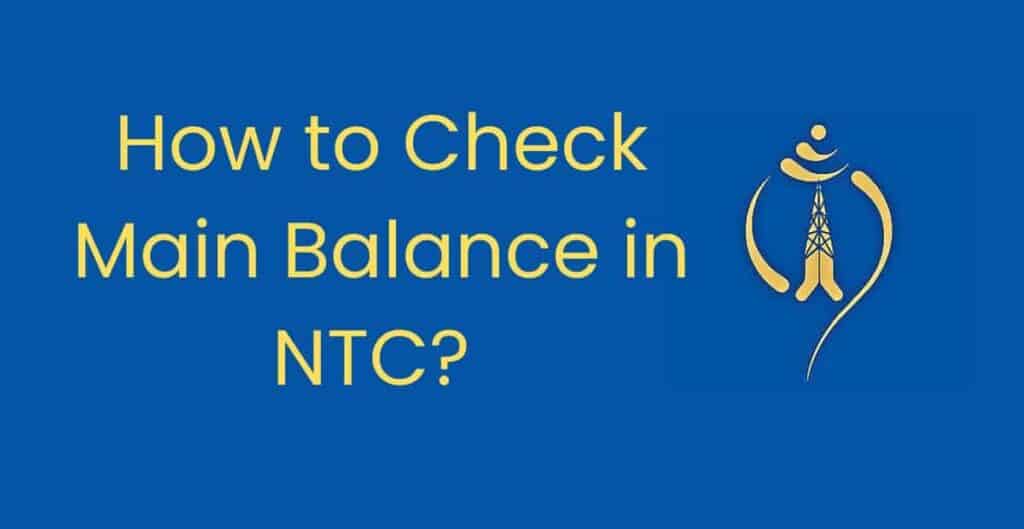 NTC Balance Check Through USSD numbers
NTC USSD codes are used for a variety of purposes, the most common of which is the NTC Data Balance Check. It's also a convenient way for people who use feature phones to check the data balance for their Namaster NTC phone numbers. Here's how to use NTC codes to perform your Namster internet balance check.
Dial *144# to verify your NTC main balance.
On the screen, your NTC balance will be displayed.
| How To Check | NTC USSD Code |
| --- | --- |
| Know Latest Offers | *1415# |
| New USSD Code | *144# |
| Old USSD Code Balance | *400# # |
| Check Your Mobile Number | *9# |
| Check Your SIM Owner | *922# |
| Call Forward Activate | **21*98xxxxxxxx*Forwarding Number# |
| Call Forward Cancel | ##002# |
| Call Waiting Activate | *43# |
| Call Waiting Cancel | #43# |
| To Recharge | *122* rechange pin number # |
| Balance Transfer | *133*SecurityCode*MobileNumber*Rs.# |
| ISD Activate | #331*0000# |
| ISD Deactivate | *331*0000# |
| NAMASTE CREDIT activate | START to 1477 |
| NAMASTE CREDIT deactivate | STOP to 1477 |
| MCA Activate | *1400*1# |
| MCA Deactivate | *1400*2# |
How to check NTC balance via Call
You can check your NTC balance through a phone call as well. Follow the steps given below –
Dial 1415 through your NTC number
Choose your preferred language Nepali English from the options provided and press the relevant key
The NTC IVR (Interactive Voice Response) machine will let you know your balance and validity
You will also have the option to find out about other plans and recharge options through this NTC balance check number.
How to check NTC balance via SMS
You can also check your NTC balance by texting BL to 1415
You will receive an SMS with your NTC balance information.
How to check NTC balance via the Namaste app
Install the Namaste app from the Google Play Store or the Apple App Store.
After logging in, the NTC balance, current plan information, and remaining data balance are all shown on the homepage itself.
By tapping the Check Usage button in NTC app, you may get additional information.
How to check NTC Landline Balance Bill?
Open the Message box on your phone
Type CB*LandlinePhoneNo ( which should contain the area code with 0) and send the message
You will receive an SMS with your NTC Landline bill information.
How to Check NTC Data Balance?
If you don't want to rely solely on my NTC app or other methods, you can try this one.
Go to the NTC official website ntc.net.np and select Sign In.
Choose Self Care option from the menu
Next, select "Register" and fill in all the required details.
You will receive an OTP to your phone number; enter it and then click the submit button.
Once you've completed the registration, you'll have access to the NTC self-care option.
From there, you can easily check your data balance and usage, along with other account details.
For more detailed information about your NTC balance, select "Check Usage" or "View More.
Namaste Sim NTC Balance Check Related FAQs
Which USSD Code Should I Use To Know My NTC Data Balance?
Simply dial *400# from your phone carrier to know your 2G, 3G, or 4G NTC data balance.
What Is The NTC Balance Check Number?
You can check your NTC balance by dialing *400#