The Ncell loan service allows users to take talk time loans when their main account balance is running low. This service proves highly beneficial in emergency situations when users have no means to recharge their account balance. With this service, users can avail a loan of either Rs. 50 or 1GB of data, enabling them to make calls or access the internet.
It's important to note that this service is exclusively available to prepaid customers who have been using the Ncell service for the last 30 days. In this article, we discuss Ncell's balance and data loan features, along with how to avail them using USSD codes, and the designated Ncell loan number.
How to Take a Ncell Loan Using USSD Code
This is a vastly used and the most simple method for taking NTC Loan. Below are the steps that you need to follow:
Open the dialer on your mobile phone
Dial Ncell Number Checking USSD Code *9988#
Now select Balance Saapati Rs. 40 or Data Saapati 1GB (RS 49)
You are all done! You will receive a loan message with a confirmation
Note: The Namaste NTC Loan Service is available exclusively to prepaid users who have been using the Prepaid Service for 3 months or more.
Ncell Loan Code and Number
| Loan | Number/Code |
| --- | --- |
| Code | *9988# |
| Number | 9005 |
Ncell Sapat Loan Code Service
When you recharge your balance next time, the Saapati loan amount and any applicable service charges will be automatically deducted from the new Ncell balance. In cases where the recharged Ncell balance is less than the Saapati amount, the entire available balance will be utilized, and the remaining Saapati amount and service charge will be deducted from subsequent recharges. If you have not yet recharged after availing Sapati, incoming services will remain accessible, but you won't be eligible to request another Saapati until the previous one is fully cleared. This system ensures a seamless and transparent process for repaying the borrowed amount, allowing users to stay connected even in low-balance situations while ensuring responsible usage of the Saapati service.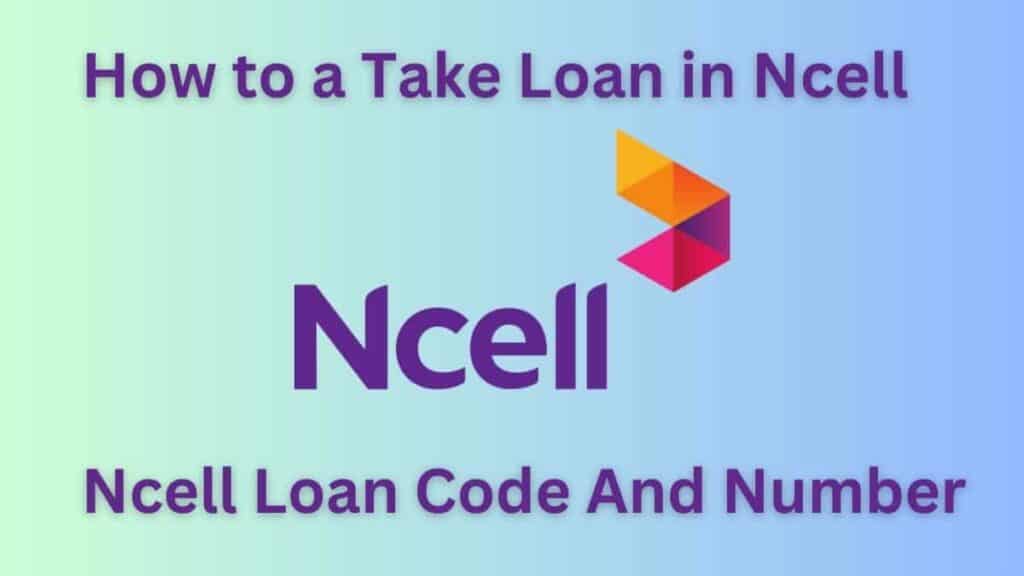 Available NTC Loan Services
| | | | | |
| --- | --- | --- | --- | --- |
| Saapati/Loan | Loan value | Service fee (Incl. tax) | What you get in Saapati? | Validity |
| Balance Saapati | Rs. 40 | Rs. 2.48 | Rs. 40 Main Balance | – |
| Data Saapati | Rs. 49 | Rs. 2.48 | 1 GB | 3 Days |
Eligibility Criteria For Loan Sapati In Ncell
Telecom operators offer a convenient service to their subscribers, allowing them to request advance balances or data whenever needed. This becomes particularly useful when customers run out of balance unexpectedly, giving them the option to opt for a data loan during emergencies. The borrowed balance is later deducted from the customer's future recharge, making it a hassle-free solution. Despite the generous data bundles included in prepaid plans, there are times when we still require extra data at the end of the day. In such situations, the Sapati loan service provided by telecom operators proves to be a valuable and practical resource.
The loan can be activated easily by sending an SMS to the loan Number
The NTC minimum balance should be less than Rs. 5
The NTC user should be an active subscriber for more than 30 days
Users can request credit amounts of RS 42 or 1GB of Data costs Rs 49.
If you have taken Ncell Data and a loan you cannot transfer the amount.
NTC Loan Sapati FAQs
How do I take the loan in NTC?
To take the loan, dial *9988# from your mobile phone.
What is the Ncell Sapati Loan Service for Customers?
The Sapati Service for Prepaid Customers, also known as Ncell Loan, allows eligible users to request a credit amount for Talktime or date in times of need. Users can avail of this service without worrying about call drops or extra charges.
How can I check the status of my NTC Loan or Sapati?
To check the status of your Sapati or loan, dial *101#.
Is there a service fee for taking a loan in Ncell?
Yes,, there is a Rs 2.48 service fee charged for taking a loan in Ncell.