Driving License Online Form: Applying for a driving license online in Nepal is a very easy procedure. Nowadays, people have access to the internet and can submit an application in a few seconds. Today we will step it up a notch and tell you more details about applying for a driving license in Nepal.
You need to have a valid driving license to a two-wheeler or four-wheeler legally drive in Nepal. A driving licence is issued by the Department of Road and Transport, Government of Nepal. The article describes many simple ways to apply for a driving license online registration. We will provide you with a direct link to download the driver's license form, a few simple steps are provided.
applydl.dotm.gov.np 2080 Online Driving License – New Update
Latest Update: The Department of Transport and Management has opened the online application form for a driving license in Bagmati, Gandaki, Karnali, Lumbini, Madesh, Sudurpaschim, and Koshi. A new application form opens every 16th day at 7 am (Saturday, Sunday, Monday, Tuesday) and an online application form can be submitted until the quota is filled.
Driving License Online Application Form
| | |
| --- | --- |
| Article | Driving License Online Form |
| Launched by | Government of Nepal |
| Beneficiary | Citizens of Nepal |
| Application Mode | Online |
| Issued by | Department of Transport and Management (DOTM) |
| Year | 2080 |
| Official website | dotm.gov.np |
How to apply for a driving license online through applydl.dotm gov.np
The DOTM application allows you to store your various personal documents such as your driving license, etc. This app also stores the data of various other Nepali government transport departments. You can download the driving license application from the DOTm app by following these steps.
Step 1: Open the official website on your phone
Step 2: Click on the website applydl.dotm.gov.np
Step 3: Select the online services tab and click on the "Driving License Related Services" option.
Step 4: Choose the category from which you wish to apply.
Step 5: Click on the "Apply for Driving License" option.
Step 6: Fill out the application form.
Step 7: Upload scanned copies of all required documents.
Step 8: Schedule a driving test appointment
Step 9: Attend the test according to your schedule.
Step 10: Click the print button to get the driving license form.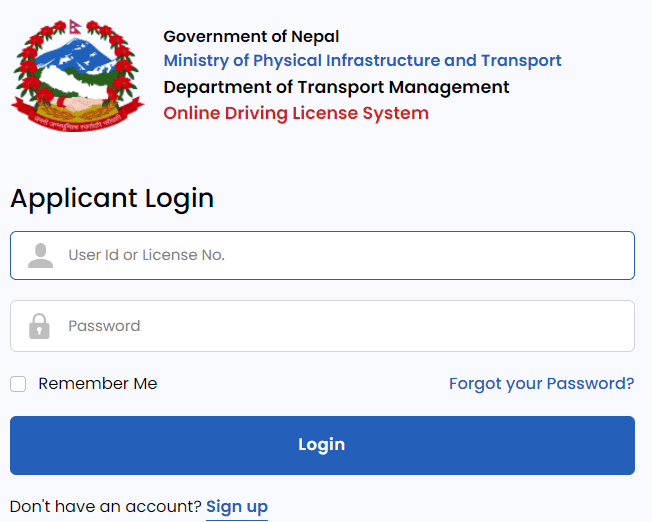 Procedure To View Driving License Status Online
Go to the official website of the Department of Transport Management applydl.dotm.gov.np
The DOTM home page will open before you
On the homepage, now select your province
Now you have to click on the application status link
As soon as you click on this link you will redirect to a new page where you have to enter your driving license application number and date of birth
Now you have to click on submit
Application status will be on your computer screen.
Eligibility for Online Driving License 2080
There are a few things you need to keep in mind while applying for a Driving license form. According to which you can apply. Therefore, the application criteria for this post are as follows-
Age Limit: Age is fixed for all the candidates. According to which only if your age is from 18 years then you can apply for it.
Educational Qualification: There is no specific educational qualification for the driving license online form. If you have an intermediate and bachelor's degree from a recognized college and university then you can easily apply for it. These educational qualifications are decided by the authority.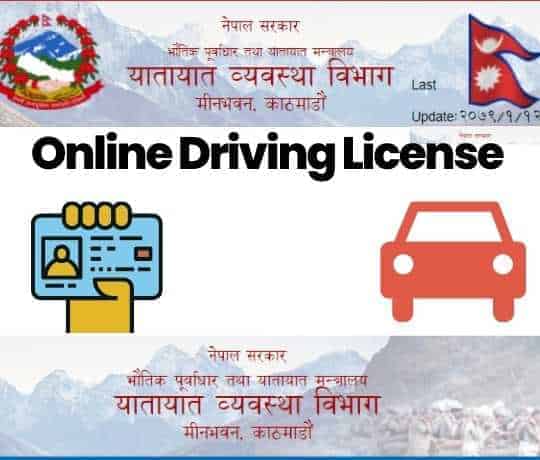 Vehicles Categories for Online Driving License in Nepal
A-Motorcycle, Scooter, Moped
K-Scooter, Moped
B-Car, Jeep, Delivery Van
C-Tempo, Autorickshaw
C1-E-rickshaw
D-Power tiller
E-Tractor, Trailer Tractor (Low Bed)
H-Road Toller, Dozer
H1-Dozer
H2-Road Roller
I-Crane, Fire brigade, Loader
I1-Crabe, Mobile crane, Crane Mounted Truck
I2-Fire Bridgage
I3-Loader
J1-Excavator
J2-Backhoe loader
J3-Grader
J4-Forklift
J5-Other
Driving License 2080 Application Fees
You will also have to submit the application fee for the various posts of driving License which has been fixed separately for different vehicle categories. You can submit this fee online mode through Credit Card, Debit Card, Net Banking, Esewa, Khalti, etc. Your Driving License 2080 application fee has been decided as follows-
| | |
| --- | --- |
| Driving License | Fee |
| Applying for a new driving license | 1000 |
| Driving license test | 1500 |
| Renewing a driving license | 1000 |
To get a trial, you only have to pass the written driving license test. The DOTM will conduct this examination in a very fair manner. In which you can pass only on the basis of your marks.
Online Driving License Exam Pattern
The exam pattern for your license written exam is as follows-
This exam will be conducted in both Nepal and the English language.
For each correct answer, you will be given a total of 01 mark.
A total of 60 minutes will be given to you for the Driving License Exam Form.
You will be given a total of 50 questions in this exam.
Driving License Exam New Syllabus
Driving License Syllabus: Driving License Exam's official detailed syllabus will be released by the Department of Transport (DOTM). If DOTM makes any changes to the syllabus or the exam pattern then it will be updated in the official notification DOTM will also release a detailed online license syllabus in case of any changes. To crack the driving license Exam 2080 students must aware of the driving license syllabus & Exam pattern in detail.
Documents Required to Apply for a Driving License Online in Nepal
First-time applicants need any one of the documents for age and address proof:
Birth certificate
Attested copy of the citizenship
National Identity Card
Passport Size Photograph
Passport
Voter's ID
Valid passport
Citizenship Card
Other documents
Steps to Apply for a driving license online @ dotm.gov.np?
Step 1: Visit the official site of the Department of Transport i.e. www.dotm.gov.np
Step 2: Click on the 'Online Driver's License System' link in the 'Important Links' section on the right side.
Step 3: Then click on Online Driving License Registration at the top of the page.
Step 4: After seeing the new page, go to the category, select one of the options License (New License), Renew License, or Copy and click on the 'Proceed' button below. Clicking on 'Proceed' will open the form.
Step 5: Then 'Applicant Saved Successfully' appears. Click OK there. And, finally, after clicking on print, your form is filled out.
Step 6: If the form is accepted, then you have to print the filled paper and keep it with you. The paper mentions the time for your biometric.
Step 7: Click the download button to get the gentle replica of your driving license form
To find out about the written exam results, type the WT space> Applicant ID>, where Applicant ID into your mobile phone and text it to 33001. In this message, you will receive information about your registration number as well as your status license.
On this page, you have to enter your mobile number and click on Get OTP and log in. To learn more about Smart Cards Whether printed or not, type the following information and text it to the number 33001 from your mobile device: LC space> Applicant ID> where a number is assigned after biometrics. In this message, you will receive a link on which you will open a page about your mobile number.
Dotm.gov.np License Registration 2022 Direct Link
| | |
| --- | --- |
| Lok Sewa Aayog 2080 Notifications | Visit Now |
| Lok Sea Aayog 2022 Application Form | Apply Now |
| Our Website | www.nepaliupdates.com |
FAQs on How to Apply for Driving Licence Online Form
What documents do I need to submit to apply for a driving license in Nepal?
When you apply for a driving license, you must submit the following documents:
1] Passport size Photo
2] Citizenship
What is the validity of a Driving Licence in Nepal?
A Driving Licence is valid for a period of 5 years from the date of issue.
Will I get a refund if I don't clear my driving trial test?
No, you will not get a refund if you don't clear your driving trial test.
What should I do if I lose my driving license?
You need to apply for a duplicate driving license in case you lose your original license in Nepal.
Is the driving license valid across Nepal?
Yes, the driving license is valid across Nepal.