H1B visa application form, registration, visa fee, requirements, and many other details are in this article. H1B visa application 2023 is started, and the registration dates are out. Read the complete article to know the H1b USA working visa fee, dates, and application form dates.
H1B visa application 2023
H1-B Visa is a nonimmigrant visa that is designed to allow U.S. employers to employ foreign nationals in specialty occupations in the United States of America for a specified period This visa is commonly used by employers to hire foreign workers in occupations such as science, engineering, IT, and finance. In order to apply for the H1B visa, you need to have a job offer from a US employer.
The highly anticipated H1B visa filing season for fiscal 2023-20224 has officially begins on March 1 when the US immigration agency will start accepting applications for skilled foreign workers visas, the most sought-after by Nepali IT professionals.
H1B USA Working Visa Application
| | |
| --- | --- |
| Authority Name | US Citizenship and Immigration Services |
| Visa Name | H1-B Working Visa |
| Maximum Duration | 6 Years |
| Application Open Date | 3rd March 2023 |
| Application Close Date | 17th March 2023 |
| Website | uscis.gov |
uscis.gov USA Working Visa H1B Application
The authority responsible for H1B USA working visa application is the U.S. Citizenship and Immigration Services. This visa allows U.S. companies to employ foreign workers in specialty occupations that require theoretical or technical expertise. Many technology companies depend on the H1B visa to hire tens of thousands of employees from different countries each year.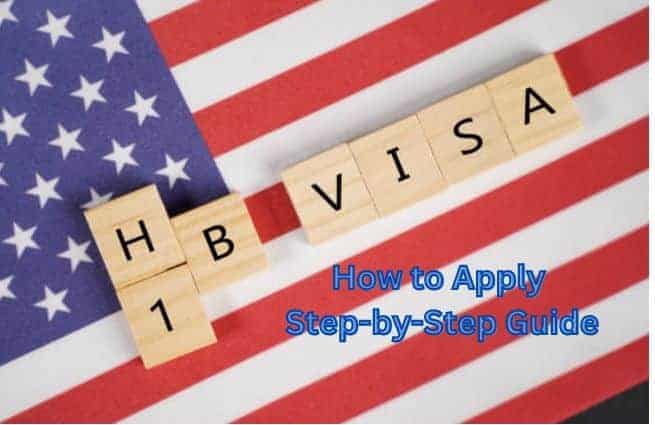 To apply for the H1B Visa, you will need to visit the uscis.gov website. The mode of application is online, and you will need to fill out the necessary forms and provide the required documents. H1B visas are initially valid for 3 years but can be extended for another 3 years. At most, a person can stay and work in the U.S. for six years.
Eligibility to get USA Work Visa
If you're a Nepalese citizen seeking to work in the United States, you'll need to fulfill the following specific requirements to be eligible for a work visa.
In order to apply for a work visa in the United States, you must meet the following requirements.
1] To obtain a work visa for the USA, you must be at least 18 years old.
2] You must hold a bachelor's degree or have equivalent education and work experience.
3] Demonstrate the ability to work in a specialty occupation, as determined by the United States Citizenship and Immigration Services (USCIS)
4] Hold a valid job offer from a US-based employer
5] Show that you're not coming to the US to pursue a hobby, provide free advice, or offer any humanitarian services
6] You must provide employment documentation, including an I-129 and I-797 form.
7] Your employer must file a labor condition with the Department of Labor outlining the terms and conditions of your employment contract.
8] You'll also need to be in good health and hold a good conduct certificate with genuine intentions of working in the USA.
Documents Required for USA Work Visa Nepal
Here is the list of documents required for a USA work visa for Nepalese.
A passport that's valid for at least six months after your planned departure date
A completed DS-160 application form
Photos that match specific criteria, such as having a white background, a recent picture, and a neutral facial expression
Educational documents, including certificates and transcripts
An original employment offer letter or contract document
Your Curriculum Vitae (CV) and an acceptance letter for employment in the USA
Experience certificates from previous employers
Additional documents that may be required based on your visa category and job
Copy of the letter sent to the Consular General of the Nepal Consulate
Appointment and relieving certificates from previous companies where you were employed
Dates of prior stay in the US in H1-B status
Job description and duty with the sponsoring US company
Copy of your current US license or temporary license
If applying for an H-4 visa for dependent members, you must submit copies of your children's birth certificates and marriage certificates.
How to Apply for an H1B Visa from Nepal?
Follow the steps mentioned below to apply for an H1b Visa From Nepal:
Step 1: Prepare Your Documents
Before you start the application process, ensure that you have all the required documents ready. This includes a valid passport, academic and professional certificates, job offer letter from a US employer, and proof of payment of the application fee. Make sure that all the documents are in order and meet the US visa requirements.
Step 2: Complete the DS-160 Form
The DS-160 form is an online non-immigrant visa application form that you must complete to apply for an H1B visa. You can access the form on the US Department of State's Consular Electronic Application Center website (CEAC). Once you have completed the form, note the DS-160 form barcode number as you will need it later in the process.
Step 3: Pay the Application Fee
After completing the DS-160 form, you need to pay the application fee for the H1B visa. The fee amount may vary, so make sure that you check the current fee on the US embassy website. Once you have paid the fee, make a note of the receipt number.
Step 4: Schedule an Interview
After paying the application fee, you need to schedule an interview at the US consulate. Check the waiting period for visa appointments at all US consulates and select the earliest possible date. You will need the appointment confirmation page for the interview.
Step 5: Attend the Interview
On the day of the interview, make sure that you carry all the required documents, including the appointment confirmation page and the DS-160 form barcode number. Be prepared to answer questions related to your job offer, qualifications, and intent to return to Nepal. If it is denied, you may be able to reapply or appeal the decision.
If your H1B visa application is approved, you'll be able to travel to the US and start working for your employer. If your application is denied, you may be able to reapply or appeal the decision.
If you want to ask anything about the H1b visa application 2023, then you can ask us by messaging us in the comment section. We will try to reply to you as soon as possible.