CEE or Common Entrance Exam is a national-level entrance exam organized by the Medical Education Commission (MEC) every year. It is a medical entrance test organized all over Nepal for medical aspirants. The CEE exam is conducted once a year in offline mode for a duration of three hours and 20 minutes.
The Medical Education Commission (MEC) conducts the medical entrance exam for admission to MBBS, BDS, BSc Nursing, and other medical/paramedical courses in Nepal. Over 2 lakh candidates appear for the CEE UG exam every year.
Medical Education Commission (MEC) Bhaktapur has announced the list of CEE Entrance 2080 exam dates soon. MEC has announced the CEE entrance exam for admission in the following subjects: Bachelor of Medicine and Bachelor of Surgery (MBBS), Bachelor in Dental Surgery (BDS), BSc Nursing, BASLP, B Perfusion Technology, BAMS, BSc MLT BSC MIT BPT Bpharm B optometry, Bachelor in Public health, and Bachelor in nursing sciences. Check CEE Entrance Result 2080 here
CEE Entrance 2080
| | |
| --- | --- |
| Conducting Body | Medical Education Commission MEC |
| Exam name | CEE Entrance Exam |
| Exam Date | 4th November 2023 Onwards |
| Time | 11:00 AM to 2:00 PM |
| Exam Level | National |
| Application Mode | Online |
| Exam Mode | Offline |
| Website | entrance.mec.gov.np |
| Result Date | 9th November 2023 |
| Exam Duration | 3 Hours |
CEE Entrance Exam 2080 Date
The common Entrance exam 2080 date has been announced by the Medical Education Commission. The MBBS entrance examination for CEE will be held on the 4th of November 2023. There is no change in the MEC CEE MBBS exam pattern and exam timings. This online model test is conducted in one shift in 3 days, in the morning from 11:00 AM to 2:00 PM at different centers.
CEE Entrance Exam admit card is expected to be issued soon after the end of the form submission date. Students should note that there is no change in the examination centers or admit cards allotted to the candidates. Candidates are advised to report at the allotted centers one hour before the commencement of the examination along with the CEE entrance admit card and any identity proof issued by the Medical Education Commission. The examination paper consists of 200 objective Multiple-choice and reason-assertion questions covering physics, chemistry, biology, and general knowledge. The maximum mark awarded to the candidate is 200. Each question will have four possible options, with a single correct response.
CEE Entrance Examination Schedule 2080
CEE entrance exam 2080 date notice has been announced by the Medical Education Commission.
CEE Entrance Exam 2080 2023 Dates
Events
Dates
Release of Notification
1st September 2023 (15th Bhadra 2080)
Application Form Release Date
3rd September 2023 (17th Bhadra 2080)
Application Form deadline
1st October 2023 (14th Asoj 2080)
Last Date of Fee Payment
1st October 2023 (14th Asoj 2080)
MBBS Entrance 2023 Exam
4th November 2023 (18th Kartik 2080)
BDS Entrance Date 2023
5th November 2023 (19th Kartik 2080)
BSC Nursing, BASLP, BPerfusion Technology Entrance Date
6th November 2023 (20th Kartik 2080)
BAMS, BNS, BSc MLT, B Pharm, B OPtometry,
BPT Entrance Date
7th November 2023 (21st Kartik 2080)
CEE BPH
8th November 2023 (22nd Kartik 2080)
Release of Admit Card
1st November 2023 (15th Kartik Kartik 2080)
Declaration of Result
9th November 2023 ( 23rd Kartik 2080)
Starting of Counseling
4th week of November ( 2nd week of Mangsir 2080)
CEE Entrance Syllabus 2023
Medical Education Commission has released the CEE exam syllabus Nepal for the test exam. A direct link for downloading the CEE syllabus 2080 is provided below the entrance. The CEE MBBS, BDS, and BSc Nursing program entrance syllabus remain unchanged but there is a change in the exam pattern with candidates getting a choice of 10 optional questions. Below are the downloadable links to the CEE syllabus for all the paper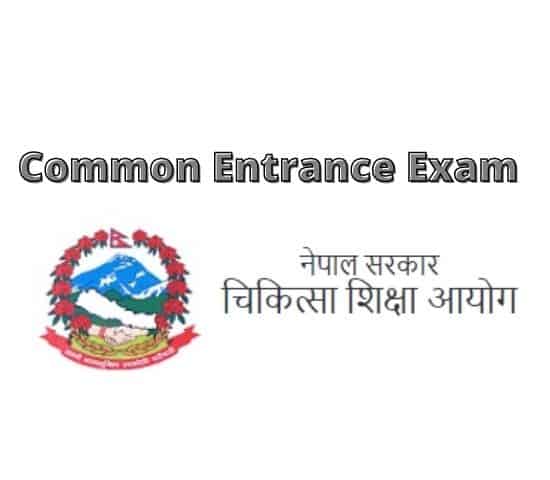 CEE Entrance Exam 2080 Syllabus
Physics
Mechanics, Heat and thermodynamics, Geometrical optics and physical optics, Current electricity and magnetism, Sound waves, electrostatics and capacitors, Modern physics and nuclear physics, Solid and semiconductor devices (electronics) , Particle physics, source of energy and universe
Chemistry
Physical Chemistry: Basic concepts in chemistry, Atomic structure, Chemical thermodynamics, Equilibrium, Chemical kinetics, Chemical bonding and molecular structure, States of matter, etc.
Organic Chemistry: Purification and characterization of organic compounds, Organic compounds containing halogens, Chemistry in everyday life, some basic principles of organic chemistry, Organic compounds containing nitrogen, etc.
Inorganic Chemistry: Elements and periodicity in properties, Hydrogen, D- and F- block elements, Environmental chemistry, Block elements (alkali and alkaline earth metals), Block elements group 13 to group 18 elements, etc.
Botany
Basic component of life and biodiversity, Ecology and Environment, Cell biology and genetics, Anatomy and physiology, Developmental and applied botany
Zoology
Biology, origin, and evolution of life, General characteristics and classification of protozoa to Chordata, Plasmodium, earthworm, and frog, Human biology and human diseases, Animal tissues, Environmental pollution, adaptation and animal behavior, application of zoology
CEE Exam Pattern 2080
The CEE 2080 Exam Pattern all details find below sections:
Mode: The exam of CEE 2023 will be an offline mode.
Shifts: CEE exam will have one shift, first shift start 11.00 AM to 2.00PM.
Exam Duration: 3.00 Hours will be the duration of the exam.
Question Paper Language: English
Number of Questions: Total number of questions will 200. Each question will be objective
Subjects: In the CEE entrance exam questions will be asked from Physics, Chemistry, Zoology, Botany and MAT
CEE Model Questions Type: The questions present in the paper are of objective type. Also, as per the latest changes in the pattern of CEE Entrance, there are questions in which answers are to be made in numerical values.
| | | |
| --- | --- | --- |
| Subject | No of Question | Marks Distribution |
| Zoology | 40 | 40 |
| Botany | 40 | 40 |
| Chemistry | 50 | 50 |
| Physics | 50 | 50 |
| Mental Agility Test (MAT) | 20 | 20 |
Number of Questions: The total number of questions in CEE Paper – 200 questions;
Total Marks: CEE entrance paper – MBBS/BDS will be of a total of 200 marks.
Marking Pattern: For every correct answer, 1 mark are given.
CEE Entrance 2080 Application Form
The application form will be available only in online mode on the official website entrance.mec.gov.np. Candidates interested in applying for CEE Entrance Exam 2080 need to fill out the application form to appear in the entrance exam. The process of filling out the CEE application form 2080 includes online registration, uploading scanned documents like photographs, signature, citizenship, and payment of application fees.
An online application fee of Rs 4,000 is required for the entrance exam. The candidate must deposit the application fee in Himalayan Bank Limited Account Number 04308931670017 in order to qualify for the CEE entrance exam.
You can also deposit this amount using Himalayan BankSmart, eSewa, Khalti, Visa Master Card, or Connect IPs. The Voucher No./Transaction ID No. must be entered into the online form. The candidate should also submit their voucher along with their fee, which must include the applicant's name and date of birth. In the online application form, the voucher number must be specified.
Candidates have to fill out the online application form to appear for the exam. The MEC CEE Exam 2080 registration application process will include the following steps.
Open the MEC official website entrance.mec.gov.np
Click on CEE Entrance Application Form
Click on New Registration
Fill out the CEE 2080 application form by furnishing personal and academic details
Verify all the details carefully and click on submit button.
Payment of MEC CEE registration fees via bank or online mode.
Students need to download the filled CEE entrance application form and take its printout. It is advised that students keep safe the print copy of the CEE application form till the completion of the admission process for future reference.
CEE Entrance Form Date
| | |
| --- | --- |
| Events | Dates |
| Start of CEE Entrance application form 2080 | 3rd September 2023 |
| Last date to fill CEE Exam 2080 application form | 1st October 2023 |
CEE Entrance Exam Preparation Tips
A comprehensive study plan is necessary in order to cover the vast syllabus of the Common entrance exam. Preparation and study for the CEE should be organized according to the timeline for completing the syllabus.
The selection of the right books, analysis of previous year's question papers, and solving mock test papers will help students to prepare effectively for the medical entrance exam 2080 as well. Regular revision is just as important as studying a topic.
Be sure to know the complete syllabus, pattern, and other details of the CEE Entrance Exam before beginning to prepare.
Maintaining a healthy diet, drinking enough water, and sleeping enough will keep you healthy and robust enough to handle the amount of information you consume and the pressure of the test.
Once the syllabus has been completed, solve the previous year's question papers. You will be able to determine the difficulty level of the exam and the types of questions asked in the SEE exam.
Students must attempt online and offline mock tests available on the book and website.
On the last day of preparation, make sure you go over everything at least twice or three times. Students should not learn anything new on this day. Make sure you get enough sleep so that you can get up early and be ready for the test.
Gain a better understanding of the syllabus. The MEC CEE Entrance 2080 will not only help students to know the important topics but also familiarize them with the exam format.
CEE Entrance Exam Centers 2080
Medical Education Commission will release the CEE Exam entrance exam centers in the official brochure. The exam conducting authorities will release the CEE exam centers separately for Kathmandu and outside Kathmandu. The CEE entrance exam will be held at the different colleges of Kathmandu as well as outside the valley. The list of CEE constituent campuses and affiliated colleges.
CEE Entrance 2023 Counselling
Counseling is set by the Ministry of Education to regulate the admission process for IOM, and other private colleges in Nepal. The students qualifying for CEE Entrance will be able to apply for IOM, BPKHIS, and other private colleges through MEC counseling. CEE Exam 2080 Counselling process will be organized in November 2023 by Medical Education Commission. Only a few rank holders will be used for admission through MEC into various courses.
The centralized process of counseling process will be organized from the last week of November 2023 for all sessions. Candidates have to register for CEE counseling through online mode. The process of CEE counseling will include – online registration, payment of counseling fee & choice filling. There will be a complete schedule of CEE counseling and other details available on the MEC website. Students will have to log in using their details to check their allotment status.
CEE Affiliated Colleges For MBBS
Campus
City
Type
Institute of Medicine
Maharajgunj
Public
Kathmandu University, School
of Medical Science
Dhulikhel
Private
Patan Academy of Health Sciences
Lalitpur
Public
B.P. Koirala Institute of Health
and Sciences
Dharan
Public
College of Medical Sciences
Chitwan
Private
Kist Medical College
Lalitpur
Private
Lumbini Medical College
Palpa
Private
National Academy of Medical Sciences
Kathmandu
Public
Universal College of Medical Science
Bhairahawa
Private
Chitwan Medical College
Chitwan
Private
Nobel Medical College
Biratnagar
Private
Nepalgunj Medical College
Banke
Private
National Medical College
Birgunj
Private
Janaki Medical College
Janakpur
Private
Manipal College of Medical Sciences
Pokhara
Private
Nepalese Army Institute of
Health Sciences
Kathmandu
Private
Gandaki Medical College
Pokhara
Private
Kathmandu Medical College
Kathmandu
Private
How to apply for Medical Entrance Exam @ entrance.mec.gov.np 2080
Following are the complete step-by-step process for filling CEE 2080 Application Form:
Visit the website of MEC CEE Medical Exam 2080 (link is given above)
Now click on the 'New Candidates registration' link and fill out the CEE registration form with all required details including basic Personal details, Phone Number, Email, Date of birth, etc.
After submitting all details in CEE Registration Form, login into the application form with all required details.
Now fill the CEE application form with details like DOB, Personal Details, Academic Records, Address, Exam Center, etc.
The details filled by applicants in the CEE Entrance application form must be correct.
After submitting all required details in the medical application form candidates will be asked to upload some required documents including a photograph, signature, SEE mark sheet 12th Marksheet, etc.
The documents uploaded by applicants in the CEE Application form must be within prescribed perimeters.
After uploading all required details, candidates will be asked to submit the prescribed application fee for CEE Entrance Exam.
Select the payment gateway, then fill in all the required information accordingly and complete the transaction.
Upon successful completion of the transaction, print out the filled-out confirmation page and Fee receipt for future reference.
Students who have appeared for class 12 final examinations in 2023 or will appear for the board examinations in 2078 are eligible for the MEC CEE entrance exam 2080. To be eligible for the CEE entrance exam, one must have secured at least 50 percent of the +2 Science or A Level or equivalent with Physics, Chemistry, and two papers of Biology (200 marks). A candidate who has appeared in the final examination of +2 Science or equivalent may also apply. More eligibility and requirements norms are elaborated below
Nepali Nationals/ International Applicants are eligible to apply.
No age limit is prescribed for candidates to appear in the exam.
Applicants must have an Intermediate degree in any discipline in the 10 + 2 format from any recognized high school.
Students applying for CEE admission, must have passed 12th level with Biology as mandatory subject.
They must have passed the examination with the least C grades in each subject with 2.4 CGPA.
CEE Entrance Exam Cutoff Marks 2080
Soon after the exam, Medical Education Commission will also declare the CEE Entrance exam cut off marks along with the detailed results consisting of subject-wise marks secured, all Nepal rank, category rank, and the qualifying status for the admission.
Candidates are shortlisted for CEE counseling based on their percentile score. Cutoff marks for CEE Entrance will be determined by the following factors.
Total number of candidates
The difficulty level of the questions
Overall performance of the students
Cutoff trends from previous years
FAQs on Common Entrance Exam 2023 Nepal
Who will conduct the Common Entrance Exam 2080?
The Medical Education Commission will conduct the CEE 2080 medical entrance exam.
How many seats will be granted through CEE 2080 scores?
As many as 1835 MBBS, 565 BDS, 1240 BSc Nursing and BPH seats including IOM 76 estimated seats will be granted on the basis of CEE results.
Who conducts the counseling for CEE Entrance 2080?
The Medical Education Commission (MEC) will conduct the counseling for CEE Entrance 2080.
What of the CEE exam date in 2080?
As per the reports, the CEE Entrance exam 2080 will be held on the 4th of November 2024.
Are there changes in the exam pattern or syllabus of CEE Entrance 2080 this year?
No there are no changes in the syllabus, marking scheme & other details
When is the registration for the CEE Entrance Exam starting?
The registration process for CEE entrance exams will begin on 3rd September 2023.
Can I fill out the CEE application form through offline mode?
No, only the online mode is available for filling out the CEE application form.