TSC Vacancy 2080: The Teacher Service Commission has released the official notification for TSC Vacancy Ni Ma Bi 2080 on the official website tsc.gov.np. TSC has announced a total of more than 1000 vacancies for various teaching posts. Eligible graduate candidates can register themselves on tsc.gov.np for these vacancies. In the TSC Vacancy 2080 for different subjects and other posts, online registration will be closed on 1st September 2023. The article provides all the details about the TSC Lower Secondary Vacancy process for candidates.
TSC Vacancy 2080
TSC has released a vacancy notification for the position of Lower Secondary Teacher (Ni Ma Bi) for different subjects in the provinces of Koshi, Madesh, Bagmati, Gandaki, Lumbini, Karnali, and Sudurpaschim. Eligible teachers, as per the TSC recruitment notification, are invited to fill out the forms now. A total of more than 1000 vacancies have been announced for this post. Recruitment for this position will be solely based on the merit rank of the applicants. The recruitment process has been organized at both national and provincial levels.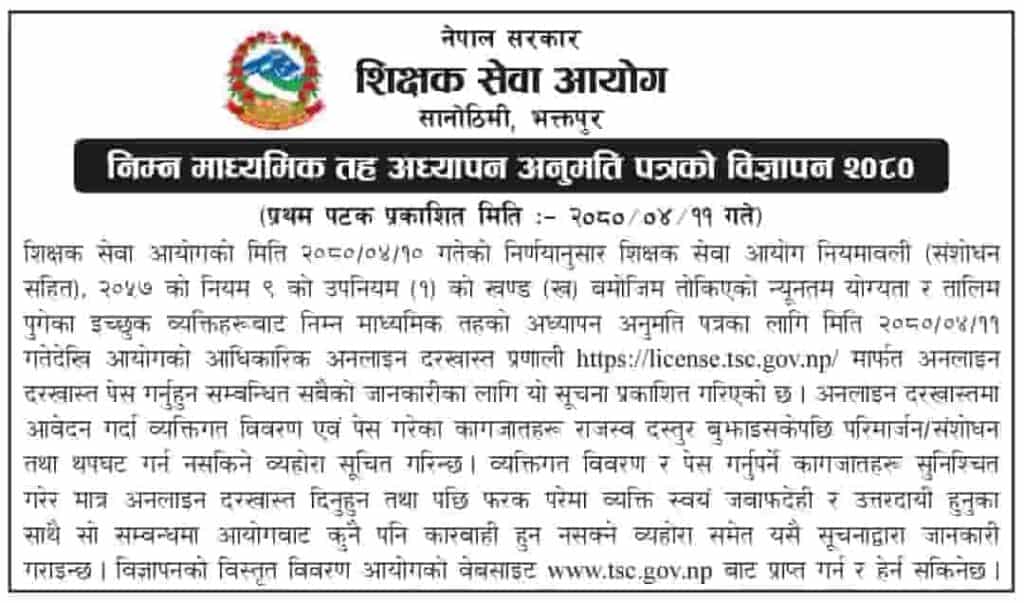 Application for the post of Ni Ma Bi will be done online mode only. You can apply for this only by visiting the official TSC website. Information about your application dates and TSC notice will be made available through the notifications. You cannot apply for it after the last date which will be fixed for the application. So apply as soon as possible after the release of the TSC application date.
Ni Ma Bi Vacancy 2080 Overview
| | |
| --- | --- |
| Recruitment Organization | Teacher Service Commission (TSC) |
| Exam Name | TSC Examination 2080 |
| Adveritsement No | 40/080 |
| Notification Name | Ni Ma Bi Vacancy 2080 |
| Notification 2080 Release Date | 27th July 2023 (11th Shrawan 2080) |
| Application Start Date | 27th July 2023 (11th Shrawan 2080) |
| Application Last Date | 25th August 2023 (8th Bhadra 2080) |
| Double Fee Date | 1st September 2023 (15th Bhadra 2080) |
| TSC 2023 Exam Date | 4th Novemeber 2023 (18th Kartik 2080 1:00 pm) |
| Application Form Mode | Online |
| Ni ma Bi Vacancy Full Details | Click here |
| Mode of Exam | Offline |
| Official Web Portal | tsc.gov.np |
The candidates who are eagerly awaiting the TSC Notification release date can find all the necessary information in the section above. Second, you can begin filling out the TSC 2080 Application form on 27 July 2023, with the last date scheduled for 1st September 2023. However, the official notice is yet to be declared by the Teacher Service Commission Authorities. Moreover, You can fill out the Application form on tsc.gov.np and there is no other way to register.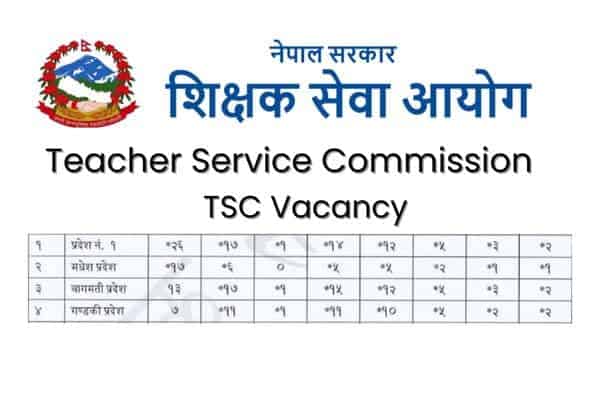 Eligibility for TSC Recruitment 2080
There are a few things you need to keep in mind while applying for TSC Job Vacancy. According to which you can apply. To be eligible for consideration, applicants must meet the following criteria:
Nepalese citizens: Only individuals holding Nepalese citizenship are eligible to apply for the position.
Not disqualified as per Rule 10 of Teachers Service Commission Rules (with amendments), 2057: Applicants must ensure they are not disqualified according to Rule 10 of the Teachers Service Commission Rules (with modifications), 2057. This rule contains specific disqualification criteria that candidates need to comply with.
Academic Qualifications: Candidates should have successfully passed the Secondary Education Examination (Class 12) or an equivalent examination from a recognized educational institution. The minimum requirement is at least 200 full marks or 8 credit hours. Additionally, they should have completed a minimum of 10 months of training in an education-related subject.
Higher Qualifications: Candidates possessing higher qualifications than the prescribed minimum educational requirements are encouraged to apply. Having additional qualifications can enhance the candidate's eligibility and chances of selection.
Documentats Required For Lower Secondary Level Vacancy:
Applicants are required to upload the following documents during the online application process:
Citizenship Certificate: A copy of the applicant's Nepalese citizenship certificate should be provided.
Recent Photograph: Applicants must submit a recent photograph as per the specifications mentioned by the online application system.
Signature Sample: A sample of the candidate's signature must be uploaded as per the provided guidelines.
Certificate of Minimum Qualification: Candidates need to provide a scanned copy of their academic certificate indicating the successful completion of the required educational qualifications.
Training Certificate: A copy of the training certificate, verifying that the candidate has completed at least 10 months of training in an education-related subject, must be submitted.
Equivalency Certificate (if applicable): In case the candidate has studied at a foreign educational institution, they should present an equivalency certificate to validate the equivalence of their foreign education to the required academic qualification.
All documents should be uploaded in jpeg/jpg format and must not exceed 200 KB in size. Candidates are reminded that they bear full responsibility for the accuracy and authenticity of the information provided in the application and the submitted documents. Any falsification or misrepresentation will immediately cancel the application or teaching permit if already granted.
TSC Vacancy Application Fees
You will also have to submit the application fee for the various post of TSC which has been fixed separately for all categories. You can submit this fee online through Nepal Bank Limited and RBB etc. Your TSC Aayog 2080 application fee has been decided as follows-
| | |
| --- | --- |
| Category of Applicant | FEE |
| Open | 700 |
You only have to pass the written test to get recruited for various posts. This examination will be conducted by the TSC in a very fair manner. In which you can pass only on the basis of your marks. The teacher Service Commission has prepared this selection process.
TSC Lower Secondary Level Exam Date 2080
Any student who wants to get information about TSC Ni Ma Bi 2079 Exam Date must read this section. TSC 2080 exam is going to be conducted for you in 17th Kartik 2080 at 11:00 pm and this paper is conducted for secondary level teachers. Today news has come that the TSC 2023 notification will be released soon in both Nepali and English language. After that, all the students can start registering online. To pass this, you have to get 50% marks, and after that, you can become a government teacher.
TSC Exam 2080 Admit Card
The admit card for TSC exam will be uploaded approx. 20 days before the date of the exam. The process is the same for the second exam Admit Card and the TSC admit Card will be issued only to those candidates who have cleared the first Exam. Stay updated to check to admit card status
How To Apply for TSC Ni Ma Bi Vacancy 2080 2023
To apply for the TSC Lower Secondary post, the aspirant must follow the procedure we have provided below. By reading and following these steps, you can easily apply for the post of TSC 2023 on your mobile phone and computer sitting at home.
1] First of all, Candidates Need to visit the official Website of the Teacher Service Commission license.tsc.gov.np
2] After that, tap on the "Account register Join Appy Online' link.
3] Now, an application form will show up on your device's screen.
4] Now you need to fill in your personal details, like name, father's name, mobile number, email id, and citizenship number.
5] Next, attach the required documents like citizenship with the application form.
6] After filling in your details you need to click on submit button and pay the exam fee
7] Finally, the TSC registration form 2080 process will be successfully completed.
8] You should take out a hard copy of the application form for future use.
Ni Ma Bi Lower Secondary Level Advertisement – Important Information
Training Requirement: To be eligible, candidates must have received training in Teaching Practice (Instructional Pedagogy) Practicum or student teaching subject while passing the Secondary Education Passing Examination (Class 12 or Proficiency Certificate level or similar) in education-related subjects with 200 full marks. This requirement is in accordance with sub-rule (6) of Rule 9 of the Teachers Service Commission Regulations, 2057.
Special Curriculum Exclusion: Candidates who have passed Class 12 from the Special Curriculum (Special Curriculum) of the Council of Higher Secondary Education are not eligible for this advertisement. The Special Curriculum is recognized for training purposes only and does not fulfill the academic degree requirement.
Province Selection: The written exam will be held on the same day and time. Candidates must choose the province in which they wish to participate in the exam. However, each person can apply in only one province and not more than that.
Deadline and Eligibility: Applications submitted after the Commission's specified deadline, or those that do not meet the minimum qualification or required details, or fail to submit the prescribed fee, will not be considered.
Exemption of Double Fee Period: The period of Double fee ( Dovwar Dastur ) will not be counted for determining age, educational qualification, and training eligibility.
False Document Submission: If any applicant is found to have submitted false documents, their application will be canceled at any stage, and appropriate legal action will be taken against them.
Assistance for Candidates with Disabilities: Candidates with disabilities, such as blindness, visual impairment, or the inability to use both hands, who are at least one level below the minimum educational qualification, may be provided with an assistant writer. The assistant writer should have passed the prescribed level only one year ago. Approval for this can be obtained from the education development and coordination unit of the district where the candidate has permanent residence or where the examination center is located.
Syllabus Information: The syllabus for the examination can be downloaded from the Commission's official website at www.tsc.gov.np/download.
TSC Lower Secondary Level Vacancy- FAQs
Is the TSC Vacancy 2080 notice released?
Yes, the TSC vacancy 2080 notice has been released on its official website for various teaching and non-teaching post.
What is the last date to apply online for TSC Lower Secondary Vacancy 2080?
The last date to apply online for TSC Vacancy 2080 is 1st September 2023.
What is the Educational Qualification for Ni Ma Bi TSC Vacancy 2080?
The educational qualification required for the TSC Vacancy Ni Ma Bi 2080 is that candidates must have successfully completed the Secondary Education Examination (Class 12) or an equivalent examination from a recognized educational institution.