Indian cricketer Suresh Raina has also announced his retirement from international cricket. An hour after Mahendra Singh Dhoni retired, Suresh Raina has also announced his retirement. Raina,33, has followed in Dhoni's footsteps. He has given information about it on Instagram in Dhoni's style.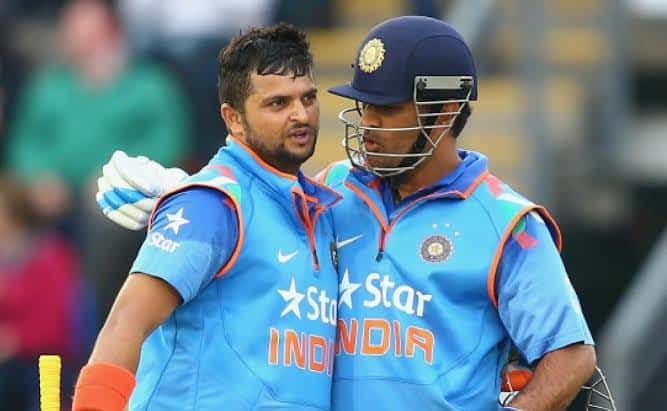 On Instagram, Suresh Raina said that playing with MS Dhoni was a pleasant aspect of his sporting life and that he was proud to retire from international cricket with him. He also thanked all the supporters.
Suresh Raina wrote, "It was nothing but lovely playing with you, @mahi7781. With my heart full of pride, I choose to join you in this journey. Thank you, India. Jai Hind! "
Raina made his ODI debut on July 30, 2005 against Sri Lanka. He was 19 at the time. He holds the record for being the first Indian cricketer to score a century in all three types of international cricket. When India won the World Cup in 2011 under Dhoni's captaincy, he was also a part of the team.
Raina has scored 5,615 runs in 226 ODIs for India. Which includes 5 centuries and 36 fifties. Similarly, he has scored 1,605 runs in 78 Twenty20 Internationals. He has struck one century and five fifties in the Twenty20.
Similarly, Raina, who has played 18 Test matches for the Indian team, has scored 768 runs including one century and seven fifties. He has also taken 13 wickets in Tests, 36 in ODIs and 13 in Twenty20 cricket.
Raina last played for India on July 17, 2018, against England in the Leeds ODI . Suresh Raina hasn't played competitive cricket for a year now. He was ruled out of action after the final of the Indian Premier League 2019 due to a knee injury. Raina underwent a surgery last year and was confirmed to miss the 2019/20 domestic season. He had joined CSK's training camp in March before it was canceled.
Check Out This Article Also:
MS Dhoni: Former India Captain Retires from International Cricket