Sahas Urja, Solukhumbu-based hydropower company, will announce the final IPO share allotment result on Sunday 3rd October 2021. NIBL Ace Capital Limited is the official IPO registrar for this IPO.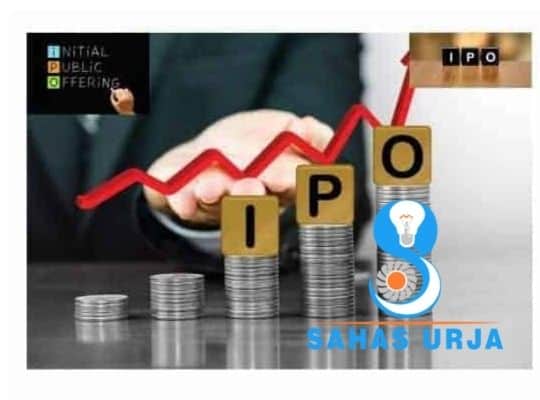 Many investors are anxiously waiting for the Sahas Urja final IPO result allotment later in the day. There are two ways through which investors can check the share allotment. Investors can visit the Mero share (CDSC) website or the IPO registrar's website
Sahas Urja IPO result
Sahas Urja private company's 70 crores initial public offering (IPO) received a resounding response from investors when it was open for subscription from September 22-26. The public issue was subscribed 5.35 times, suggesting that applications were received for 3,44,98,390 shares against the total issue of just over 64,40,000 shares.
According to the IPO prospectus, the refund process of the Sahas Urja IPO result will be on Thursday after the share allotment. The credit of Sahas Limited IPO result shares to Demat accounts will be done within Thursday, and the stock is likely to be listed by the next Monday.
As we discussed earlier, the Sahas Urja Limited IPO Allotment Status IPO Allotment was to be conducted on 29th September 2021 but it could not. So now the investors are waiting to check their Sahas Urja IPO result status. They can check the status from Mero share and NIBL ​​ACE Capital directly.
The given link will be activated soon to check the IPO result. You will have to visit the official portal and then you will have various options where you need to follow the procedure which is mentioned exactly on this page.
How to Check IPO (Allotment) Result of Sahas Urja Limited:
You can check the Sahas Urja IPO result on the MeroShare website Meroshare.cdsc.com.np by going to the application report and entering your Demat number or BOID number. Here is how you can check the share allocation status:
To get IPO allotment result status for Sahas Urja IPO, visit https://iporesult.cdsc.com.np/
On MeroShare, select and then from the dropdown, select 'Sahas Urja Private Limited'
Enter your BOID or DMAT number and any other necessary required details.
You will see allotment status where the share is allotted or not marked question on the screen.
(Please note the details will only be available once the Sahas Urja Company shares are allotted.
As there are more applications than demand in the IPO, the Sahas Urja IPO result will be distributed by round-robin. While distributing through round-robin, 7,44,000 applicants will receive shares at the rate of 10 units.
ICRA Nepal has assigned an issuer rating of [ICRANP-IR] BB + (pronounced ICRA NP issuer rating double B plus) to Sahas Urja Limited.
Alternative Ways to Check IPO Result of Sahas Urja Limited:
You can also visit the issuer website (NIBL ACE Capital) to check your Sahas Urja Limited allotment status.
Visit the NIBL ​​ACE Capital Limited official website issuer website www.niblcapital.com
Click on 'Select company' and click on 'Sahas Urja'. It will only appear after the allotment of shares.
Once the company is selected, you will have to enter either your Boid number, the application number.
Enter the captcha and click 'submit'.
Once you click 'submit, the status of your application will appear on the screen. Please ensure the details that you provide are correct. It will show the number of shares you subscribed to and the number of Sahas Urja Company Limited IPO shares allotted to you.
From the total of 70,00,000 units, 3,50,000 units i.e., 5% were for mutual funds. 3% of the total units i.e., 2,10,000 units were for the employee of the company, and the remaining 64,40,000 units were opened for the general public.
Sahas Urja IPO Details
| IPO Issuing Company Name | Sahas Urja Limited |
| --- | --- |
| IPO result Date | 3rd October 2021 |
| Issue Manager | NIBL Ace Capital Limited |
| IPO Issue Date | 22nd September 2021 |
| IPO Close Date | 26th September 2021 |
| Security Type | Common Stock -IPO |
| Initiation of Refunds | 9th October 2021 |
| Credit of Shares to Demat Account | 15th October 2021 |
| IPO listing DATE | 19th October 2021 |
| Issue Size | 7,000,000 |
| Total Capital | 3,500,000,000 |
| IPO Face Value | NPR 100 |
| Total IPO Share | 35,000,000 units |
| Share allocated for mutual Investment | 3,50,000 Units |
| Share allocated for Employers | 2,10,000 Units |
| Total share allocated for individual Investor | 6,440,0000 Units |
| Total applicants | 24,74,736 |
| Total Rejected Applicants | 12,236 |
| Total approved Applicants | 24,62,500 |
| Total applied Unit | 3,44,98,39 Units |
| Total Allocated Unit | 64,40,000 |
| Total Allotted | 64,40,00 |
| IPO Result | IPO Result |
This much I tried to cover as much as I could about the Sahas Urja IPO result. If you have any doubts feel free to ask in the comment section below.