Cricket is not just a sport, it's an emotion for many Nepali cricket fans. The excitement and anticipation for Nepal vs UAE match on 1st May 2023 is already soaring high. This match is going to be a deciding factor for Nepal's entry into the Asia cup. So, if you are a die-hard cricket fan, and wish to witness this momentous match in the stadium, then this post is just for you.
In this post, we are going to tell you about the time when the Nepal vs UAE match will start, how to book Nepal vs UAE tickets online and offline., where the ticket will be available, where the match will be going to be held, and in what place what will be the rate of the ticket. To know all about Nepal vs UAE ticket Booking stay with us in this post at last.
Nepal Vs UAE Tickets Booking Overview
| | |
| --- | --- |
| Name of the organizer | Asian Cricket Council |
| Tournament Name | ACC Mens Premier Cup |
| Stadium | TU Intl Cricket Ground |
| Schedule | 1st May 2023 |
| Time | 9:00 am |
| Buy Mode | Online |
| Platform | MyPay |
| Offline ticket price | Rs 150 |
| Online ticket price | Rs 100 |
Nepal vs UAE Tickets Online
Buying Nepal vs UAE Tickets online is an excellent way to save time and seats. One can purchase Nepal vs UAE live Tickets from numerous sources online and offline. Cricket fans can book Nepal vs UAE tickets online or buy from ticket counters at the stadium manually. Nepal vs UAE Tickets have been available online on the My pay app. The price of the online ticket is 150 Nepali Rupees.
Nepal Cricket fans who want to buy it can buy Nepal vs UAE tickets by 2023 online from online and offline modes. Nepal vs UAE match will begin on 16th March 2023 at 9:00 am. All the Nepali cricket fans who are waiting for this day can wish to watch live, then they can book the ticket on various platforms like MyPay.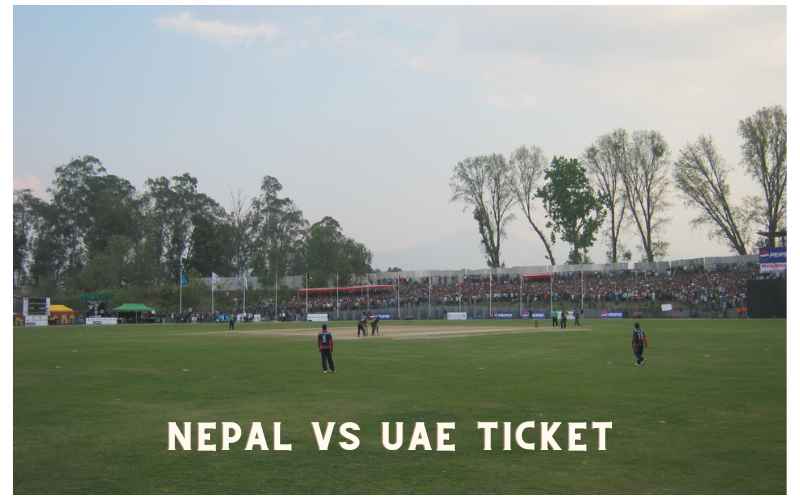 Book Nepal vs UAE Tickets Offline
Most people book tickets through online portals but some people are afraid to buy tickets online. It can be their choice or might be their plan to watch the match made later. Some people might prefer booking tickets offline due to personal preferences or network issues. Offline ticket booking is also available for Nepal vs UAE match. You can purchase tickets at the gate of the stadium for 150 Nepali Rupees.
How to book Nepal vs UAE Ticket Online?
1] First, Visit the website of Mypay where you want to buy Nepal vs UAE Ticket
2] Log In to the Website (If you don't have an account, sign up first.
3] Then go to the Mypay events tab and click on the ticketing option
4] Select Nepal vs UAE match, click the buy button, and confirm the number of tickets.
5] Proceed to checkout and complete the payment.
6] If payment is successful, you will receive an SMS and e-mail of confirmation.
7]You need to print out and show it to the counter to enter the stadium.
Thank you for visiting our website nepaliupdates.com. Click here to return to the home page.