Class 12 Result 2079 can be checked here. Get NEB class 12 result latest news and updates from this page. Clear information about the class 12 result is given in our article below, please read it carefully. Much to the delight of the students, the National Board Examination (NEB) is all set to declare the 12 result 2079. To check the result, students need their symbol number, date of birth, and other details.
Class 12 Result 2079
The result of Class 12 2079 National Examination Board previously known as HSEB (Higher Secondary Education Board) has been published. The NEB 12 result has been published by the National Examination Board (NEB) Sanothimi Bhaktapur. According to the Office of the Controller of Examination, the Sanothimi Bhaktapur class 12 Exam Result has been published in the grading system as the previous year.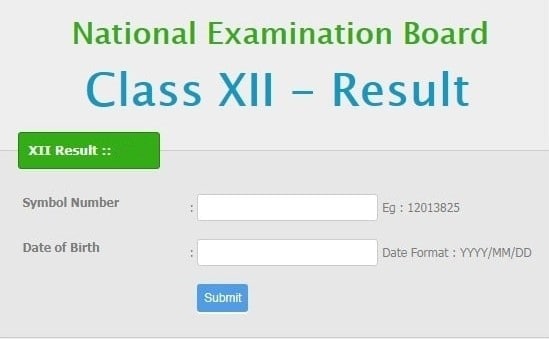 Latest Update: NEB 12 Result 2079 has been released today on 2nd September 2022 (17th Bhadra 2079) . We have updated the result link below.
This year's results of class 12 examination 2079 have been published in the same grading system as in the past by summarizing the marks of the brief examination on the theoretical side, the marks of class 11, and the marks of internal assessment. The board will give the certificate including the grade sheet to the student. Four lakh 33 thousand 219 students had applied for the examination and four thousand 105 examination centers were fixed.
neb.ntc.net.np 2079 12 Result [Direct Link] Check Grade 12 result Marksheet
NEB Class 12 2079 Exam Result Highlights
| | |
| --- | --- |
| Exam name | Class 12 Examination |
| Result name | Class 12 Result 2079 2022 |
| Session | 2078 – 2079 |
| Exam Start date | Jestha 16 2079 |
| Exam Last Date | 25 Jestha 2079 |
| Result Mode | Online |
| Result date | 2nd September 2022 |
| Exam Level tr | National Level |
| Result link | NEB 12th Result |
| Official Website | neb.gov.np |
Class 12 Result 2079 Date
The National Examination Board has announced the class 12 result today on 17th Bhadra 2079. The candidates who appeared for the class 12 examinations were eagerly awaiting the declaration of their results. Class 12 result 2079 has been published within the third week of Bhadra. According to the examination schedule, the National Examination Board (NEB) was preparing to publish the results of class 12 within the last week of August.
We will update this page as soon as any official information is available. Therefore, all students who are awaiting the results must check this space regularly for updates.
| Result Updates | Result Published Date |
| --- | --- |
| Class 12 Result 2079 | 17th Bhadra 2079 (2nd September 2022) |
Where NEB Class 12 result 2022 will be published?
There are a variety of sites that publish class 12 results each year. However, the discussion here will only focus on the NEB official portals. As we don't know whether third-party websites will publish class 12 results for this year. Here, we have provided the websites where NEB class 12th result 2079 will be available:
How to Check class 12 Result 2079 online on neb.ntc.net.np?
1] Visit the website neb.ntc.net.np
2] Navigate to the link provided for the 2079 class 12 result and click on it
3] Enter the details required such as symbol number and, date of birth.
4] Class 12th NEB Result will be displayed on the screen
5] Download it and take a printout of the same for future reference
Check Class 12 2079 Result with Marksheet
Look for the box that says class 12 result 2022
Fill your class 12 symbol number
Enter your date of birth DOB
Click on submit and get your Class 12 Result
How to Check NEB Class 12th Result 2079 through SMS
Class 12 Result has been published by Office Controller Examination (OCE) You Can Get the Secondary Education Examination neb Result By Sending An SMS. Note: You have to type the exact format for your result.
Class 12 Result With Full Marksheet Through Namaste SMS
Namaste has the official permission to publish the class 12 Result 2079 with marksheet through the website and SMS.
Open Your SMS application
Type an SMS: NEB Symbol number
Students will receive their NEB Result class 12 through SMS on their mobile phones within a few minutes.
NEB Result 2079 Via Sparrow SMS
Sparrow SMS has also got permission to publish the Secondary Education Examination Class 12 Result with a full mark sheet. To check the Class 12 result 2079 through sparrow SMS:
Go to your mobile message
Compose a new message
Type NEB 4747393735Q
Send to 35001.
Receive result through SMS within a few minutes
Steps to Check Class 12 NEB Result on Call or IVRS
There are different alternative ways to check NEB class 12 results on mobile. IVR is also one of them. The class 12 results name-wise are also made available through the Interactive Voice Response System (IVRS) or Call.
Step 1: Students must call the number below in order to get this information.
Step 2: Follow the instructions 9rovided by the operator correctly.
Step 3: NEB class 12th result will be dictated on the call containing the subject-wise marks.
The following numbers have been provided by NEB:
| Service Provider | Telephone Number |
| --- | --- |
| Namaste CDMA | 1600 |
| Ncell | Update Soon |
Details Mentioned in 12 Class Result 2079
Students should make sure that the details mentioned in the result are correct. If there is any mistake, you can contact NEB officials or respective schools. Class 12 results for the year 2079 will show the following information:
Name of the student
Symbol Number
Father's Name
Mothers Name
Date of Birth
School Name
GPA Obtained
Name of the Board
Name of Subjects
Registration Number
Class 12 Result Summary
Post the declaration of the NEB class 12 result, the Board will make the necessary arrangements for the issuance of original mark sheets. Students will be able to collect the result mark sheet from their respective schools after the formal declaration of the NEB exam result.
The Results procured or downloaded online from either the official website or www.nepaliupdates.com are only for informative purposes and will not be considered a valid document for the admission process in any college or high school. Therefore, students are advised to collect the original mark sheet from their respective schools or centers after declaring the exam result for class 12th.
After the announcement of the NEB Class 12 result 2079, the Board will also announce time table for conducting the class 12 NEB Grade Improvement Exams 2079 for students who have got low grades in a few subjects or for those who want to improve their class 12 exam Result Grade Score.
And that's it! I tried to cover as much as I could for a student about class 12 result 2079 and how to check your class 12 result with marksheet. If you have any doubts about how to check your NEB result, feel free to ask in the comment section below.
Class 12 Result 2079- Important Links